Merlin, world-leading software

Hair salons
Beauty salons • Spas • Nail bars

Manage, automate, digitalise, save time.
European-certified, RGPD compliant, billing software with online booking and integrated CRM. Available in cloud and offline versions

Cloud

Merlin software is now fully connected to the cloud, replacing the traditional Merlin with a faster, more powerful, always-on version .

Online booking

If your clients aren't booking on line, you're already two steps behind!
Start now
NEW :
MARKETING
PACKAGES
Bespoke marketing campaigns specifically targeting your clients by SMS or e-mail – just set it up and watch the clients flock in!
Ikosoft: complete software solution for hairdressers and beauty salons
Discover Merlin, the complete software solution for hair and beauty professionals.
A complete, accessible and scalable solution that adapts to your needs.
The advantages of Merlin
A fully accessible remote management system
Access your salon wherever you are
Merlin is accessible from any device wherever you are: at home, on holiday or at the office. All you need is an internet connection.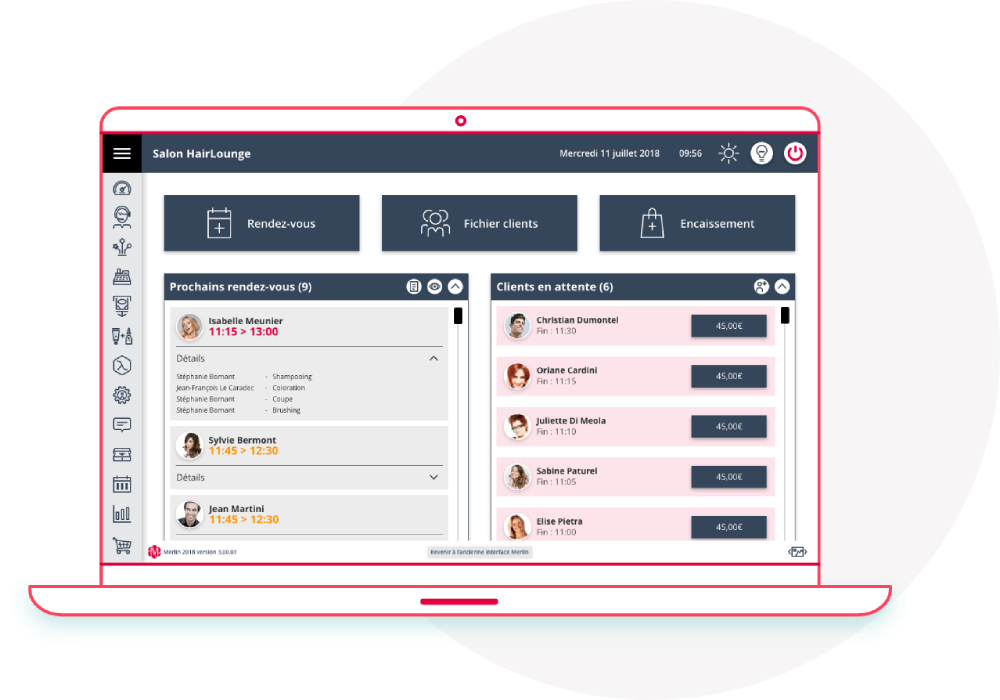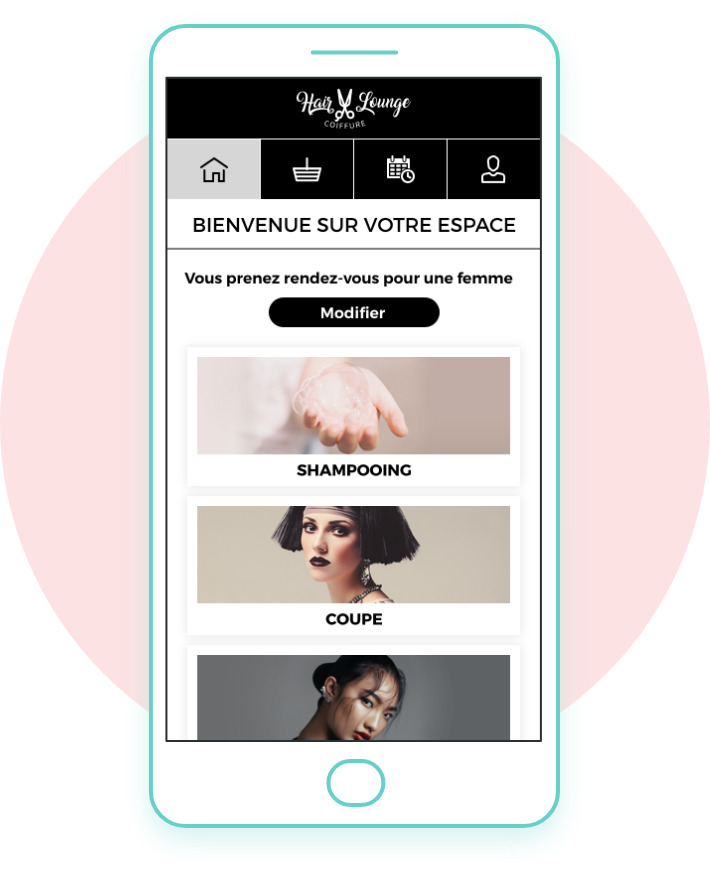 Online Booking
Save time. Merlin's online booking makes your salon accessible 24/7 from your website and social network pages, offering increased freedom to your clients and staff. Automatic SMS reminders for appointments. Online payment: full or deposit. Gift voucher sale.
Take your data anywhere
Knowledge at your fingertips. Access all your client information from a tablet and ensure fast, accurate data entry: fill in client info, add to the ticket as services are performed, book an appointment in the diary. Your clients need never wait at the till again. Clients can fill in their own forms and add a selfie. Increase client loyalty with up-to-date info. RGPD compliant.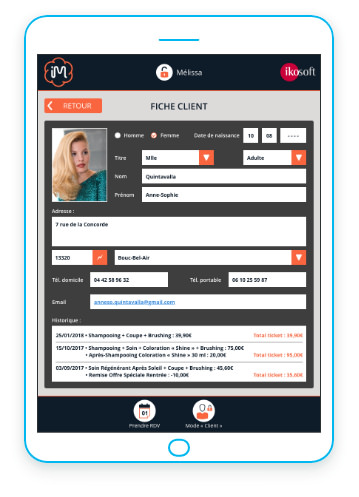 21 000 dirigeants de salons nous font confiance
Hear what our clients have to say!

Johann Bartoche
Owner of the salon "Johann Bartoche - Hair Alchemist" in Boulogne-Billancourt
"As a hairdresser for 25 years, I got to know the Ikosoft company in 2008. When I created my first salon in 2012, I chose it as a partner, and until then, I was satisfied with it. In 2019, I decided to sell my salon and to evolve: I was then solicited by a colleague who proposed me an all-in-one service to digitalize my salon with an application and the latest tools. The visuals and the presentation caught my attention, because the flaw I could reproach to the Ikosoft software was the lack of modernism in its presentation and its color codes, as well as the presentation of the website templates. So I experimented for 3 months with this new partner with whom I lived an unparalleled hell, and I quickly realized the effectiveness of Ikosoft on many subjects such as cash flow statements, marketing, after-sales service, training service ... In short, the multitude of things that can be put in place to help business owners find their autonomy. Ikosoft's seniority in its field gives it all the legitimacy to be among the leaders on the market as a specific hairdressing cash register software. This is why I decided to renew my partnership with them for my new salon since 3 months, and finally the serenity is back. I congratulate them for their work, the rigor and the customer relationship worthy of the name and it is with great pleasure that I could recommend them in the future to colleagues who want to develop their business in peace! "

Olivier Lebrun
Salon OLAB PARIS
"What we like about the Merlin software is that the client who is part of the Olab network will always be welcomed in the same way because she will already be known. And we really liked that. Merlin is a very intuitive software, and it was easy to learn. This computer tool helps us every day to manage the agenda of each hairdresser and colorist as well as our customer base. There is a very real aspect, when our client leaves the salon she receives her card with her services. Very simple. Very efficient. "

Eric Pfalzgraff
Creator of Coiff1rst salons
"The Merlin software is a great tool for managing my salons. It allows me to know everything that is happening in real time and to send marketing operations to all my salons simultaneously via the software. I can have a precise follow-up of my trade shows in France and abroad and define objectives. The Ikosoft teams are hyper responsive to the slightest need! "
21,000 salons
35 countries
Support 5 days a week
5 million text messages
100,000 APPOINTMENTS